Camp ReadyLA Background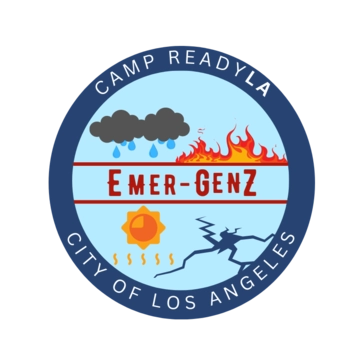 Camp ReadyLA will be a week-long program that provides a look into the life of an emergency manager and equips young program participants aged 15-25 with disaster preparedness, team building, and leadership skills to pave the way for their professional development.
By walking a mile in the shoes of an Emergency Manager in these disciplines, we will embed team-building activities, career paths, and leadership activities in every portion of the curriculum. Our camp coordinators are working hard to ensure Camp ReadyLA is full of fun and exciting activities that provide program participants with hands-on experience in the field. On the final day of camp, participants will apply what they have learned during a Functional Exercise in the morning prior to their graduation ceremonies in the afternoon. 
The program will be from Monday, July 31, 2023- Friday, August 4, 2023, from 9:00 am- 4:00 pm each day at the LA EOC in Downtown LA. 
Applications will close on June 19th.
Reasonable accommodations will be provided upon request. In consideration of availability, it is recommended that a request be submitted no less than five business days prior to your scheduled participation. To make a request, please contact Crisanta Gonzalez, at crisanta.gonzalez@lacity.org or by phone at (213) 505-5467.
Don't forget to join our Camp ReadyLA LinkedIn page!  
The Emergency Management Department encourages interested applicants to apply and does not discriminate on the basis of race, religion, national origin, sex, age, marital status, sexual orientation, gender identity, gender expression, disability, creed, color, or ancestry. The City of Los Angeles will provide reasonable accommodation(s) to ensure equal access to its programs, services, and facilities for people with disabilities.