Posted on 12/01/2023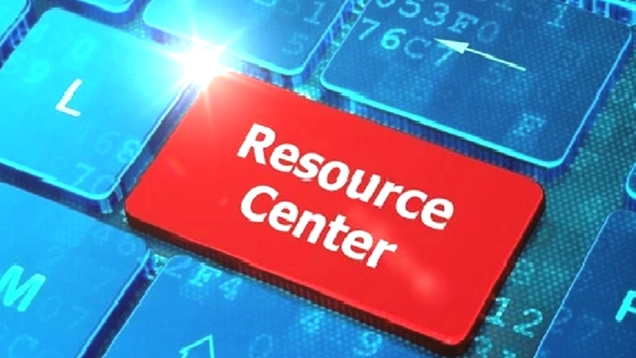 Following the extensive fire damage (on November 11, 2023) to the 10 Freeway near Downtown Los Angeles, local businesses in the surrounding areas and on streets adversely affected by changing traffic patterns reported suffering economic hardships from loss of business revenue and other impacts.
Recovery Grants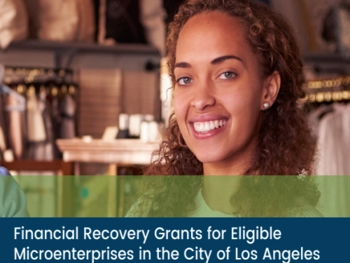 Apply here - by December 10 - for the next round of Microenterprise Recovery Program Grants (up to $5,000) open to LA City small businesses. Priority will be given to businesses that have yet to receive government assistance. Funds can be used for various operating expenses. Check eligibility at the link.
Local Business Assistance
To ensure impacted businesses receive immediate and direct assistance, the City of Los Angeles will again host a Local Business Assistance Resource Center (LBARC) -- in partnership with other government agencies and community-based organizations. The center will reopen for two days beginning Monday, December 4, at:
500 S. Central Avenue, Los Angeles 90013 
Monday & Tuesday, December 4 - 5
10:00 a.m. to 4:00 p.m.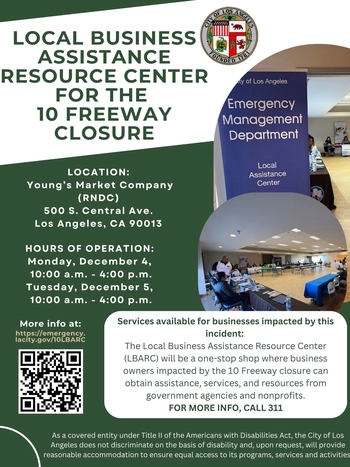 The LBARC is a one-stop shop where LA City businesses affected by the 10 Freeway closure can obtain assistance, services, and resources from government agencies and nonprofits.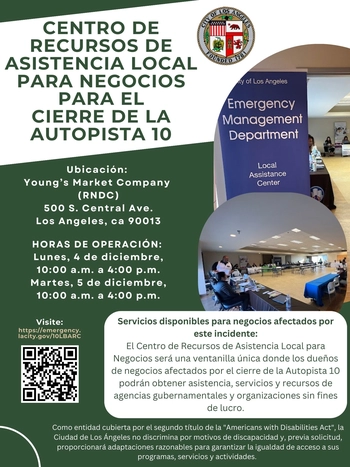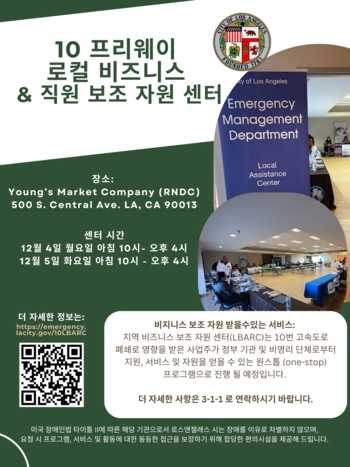 Many of the same resources for affected businesses and workers may also be accessed, using this list prepared by LA Mayor's Office:
Direct Damage Claims
For information on filing a claim with Caltrans for property damage related to the 10 Freeway fire or closure, see: Caltrans Damage Claims, email the District 7 Claims Office at: d7.legal.claims.unit@dot.ca.gov, or call (213) 897-0816. For Public Affairs: 213-897-3656.
SBA Economic Injury Forms
Completing the Small Business Administration (SBA) Economic Injury Worksheet for Business in advance of any possible Los Angeles County disaster declaration is essential for business owners. By submitting this worksheet (download below), businesses will help the region and themselves potentially become eligible for low-interest loans and other support programs. 
This will assist in providing a timely financial safety net for businesses experiencing economic strain due to freeway fire. Taking this proactive step not only expedites the aid process but also underscores a commitment to resilience so businesses can recover from this event.
Download 
WORKSHEETS
BusinessSource Centers
LA City businesses impacted by the recent 10 Freeway fire may also receive remote or in-person assistance from a City of LA BusinessSource Center, which provides free consultations, business support, and grant/loan application assistance.
● DOWNTOWN | Pacific Asian Consortium in Employment 
(213) 353-9400; 711 for TRS / email:

PicoUnionLABSC@pacela.org


(Languages:

English, Spanish, Korean, Mandarin, Cantonese, French, Lingala, Tagalog, Thai, Armenian, Farsi, Hindi, Kanada, Gujarati, Marathi, Punjabi
)
For general inquiries related to LA City services, call 311.