Immediately following the major fireworks explosion on June 30, 2021 – on 27th Street in South Los Angeles – many LA City agencies and nonprofit partners reached out with helping hands to those affected. Efforts have included housing and rehousing, cleaning and repairs, securing private property, and processing hundreds of damage claims. The work continues with no less emphasis and effort.
UPDATE: LAPD RESPONSE - July 2, 2023
"On June 30, 2021, the 27th Street neighborhood suffered the repercussions of the mishandling of a large quantity of illegal fireworks by members of the Los Angeles Police Department's Explosives Unit, or Bomb Squad. Two years later residents are still recovering losses. Chief Michel Moore states, 'The Los Angeles Police Department remains committed to supporting these residents and working with elected officials and City administrators through the completion of the 27th Street Neighborhood restoration. This neighborhood is resilient, and we will continue the work of repairing our relationship with this community we have sworn to protect and serve'"....
* * * * *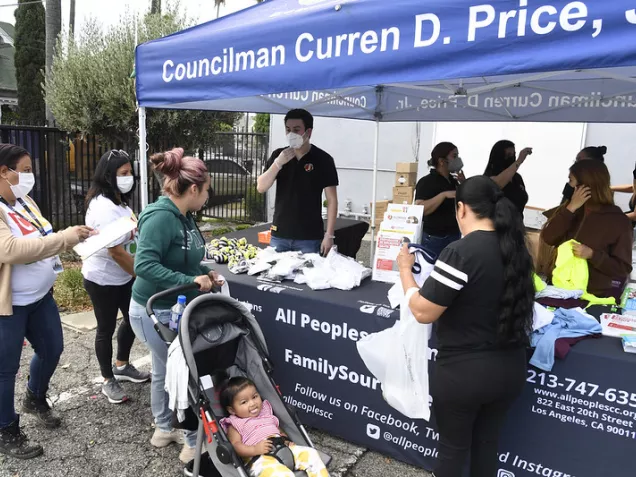 In the aftermath:
Secured emergency hotel rooms for individuals and families. 
Assisted with basic necessities such as medicine, clothing and food, including meal delivery to victims three times a day.
Enlisted St. John's Community Health to provide victims with auditory exams, medical checkups, and other health referrals. 
Coordinated mental health evaluations through LA County Health Services. 
Inspected all affected homes to determine if they were safe to remain in; three were red-tagged as unsafe and the use of 12 others was temporarily restricted.
Organized monthly resource events along 27th Street for individuals directly impacted. 
Improved street lighting and had back-alley cameras installed to deter break-ins and trespassing in vacated houses.
Trimmed more than 90 trees in the immediate area – making the new street lighting even more effective; four dead trees are being removed and 18 locations were identified for new trees.
Arranged to have sidewalks repaired and power-washed. Additional sidewalks in the surrounding neighborhood will be fixed in the coming months. 
[UPDATE]: Councilmember Curren Price welcomes a family home to a repaired home.
Financial Assistance: 
Councilmember Price quickly delivered a $1 million relief fund for cleanup services and to help expedite payments for repairs to damaged homes.
Some weeks later, his office secured from the City an additional $5 million to pay for longer-term corporate housing, home and sidewalk repairs, and other community beautification.
Twenty-six of the most severely impacted households received direct assistance in the amount of $10,000 each.
More than 25 affected households also received $2,000 Angeleno Cards for minor expenses.
Nonprofit Health Support:
Social service providers continue to liaise with affected households, making connections with mental health services, utility and rental assistance, food and other resources.
Relocated families in hotels and impacted neighbors along 27th Street still receive check-ins on their well-being, including trauma-related issues.
All Peoples Community Center, which has provided continuous case management to affected households, now operates day-to-day at the new Trinity Neighborhood Center located at Walker Temple AME Church.
HOUSING & RELOCATION
As of June 30, 2022 -- after one year: 
Through the combined efforts of Los Angeles City agencies, Council District 9, and partner nonprofits: six displaced households (23 individuals) had been relocated to permanent housing; eight other households appeared ready to relocate and were being assisted with housing vouchers and in their search for affordable units. 
Eight households, including tenants and property owners, had declined but may still be considering relocation and/or repair assistance offered by the City. 
About 15 families remain in 17 City-paid hotel rooms, including some receiving relocation assistance. [Updated May 2023]
To date, the City had paid nearly $1.4 million for these accommodations. 
Relocated households as well as those in-process had been connected with several City housing programs – which could assist even beyond the recovery period.
UPDATE:
On August 10, 2002, the Los Angeles City Council voted unanimously to support Councilmember Price's motion calling for City agencies report back on ways to "resolve barriers" that remain in order to find permanent housing for those residents of the 27th Street neighborhood still in temporary accommodations (Council File 2-0075-S3).
REPAIR, REPLACE, RESTORE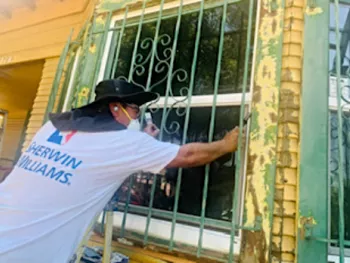 City partners and contractors have repaired portions of 24 damaged homes where property owners have allowed work to be done. 
Out of those 24, repairs on 17 homes included installing new windows, painting interiors and exteriors, fixing stucco, repairing damaged wood and ironwork, painting, plumbing work and updating kitchen and bathroom cabinets. 
One red-tagged home is in the process of a more extensive custom makeover, including: renovated bedrooms, bathrooms, and kitchen; a new foundation and roof, electrical work, plumbing, custom ceiling, new flooring, and  an HVAC system. 
More than $1 million in repairs have been performed to date; renovations continue.
 
LOCAL BUSINESS SUPPORT
Because nearby businesses were also impacted and, in some cases, experienced damage to their buildings, the City's Economic and Workforce Development Department (EWDD) immediately responded by: 
Offering specialized, in-person assistance – including identifying funding opportunities -- to workers and businesses via a service desk in the local community access center. 
Targeting outreach throughout the year to more than 30 business establishments to ensure equitable access to recovery resources through the City's BusinessSource Centers.
Providing employment resources through EWDD's WorkSource California and YouthSource Centers.
LAPD REACTS
Chief Michel Moore immediately called for internal as well as outside investigations to ensure that this type of incident does not happen again.  He has also publicly apologized on behalf of the Los Angeles Police Department for the damage to the 27th Street community.
LAPD leaders have facilitated and/or attended in-person and Zoom town halls with nearly 200 total area residents of the 27th Street area.
Residents have been provided copies of the analysis conducted by the Bureau of Alcohol, Tobacco, and Firearms (ATF) of this accidental explosion, as well as the LAPD After Action Report (AAR).
The Department continues to provide opportunities for residents to have their questions answered, including clarifications of ATF and AAR findings.

Going Forward: 
In response to after-action report findings, and to avoid future incidents, LAPD Emergency Services (Bomb Squad) has changed several explosives-related policies, including:
Updated notification requirements with additional safety procedures in place for these types of operations.  
Additional verification and approval by supervisors of potential blast calculations. 
Several low-density or population-free sites have been identified citywide for use in future detonations of volatile material, within limited transport range.
LAPD has requested the manufacturer of the Total Containment Vessel (TCV) used at 27th Street to clarify capacity guidelines for updated operational manuals.
All current personnel have been retrained in these processes and attended a TCV manufacturer's refresher course in October 2021.
Bomb squad officers' compliance with training requirements will be tracked and strictly enforced.
The ranks of the Bomb Squad have been bolstered with additional veteran officer transfers (with training scheduled for July 2022) and realigned management.
NEWTON AREA LAPD COMMUNITY SUPPORT
Throughout the first 16 months, a 24/7 police presence (in excess of 40,000 person-hours) helped to avert theft and prevented vandalism and illegal habitation.. [Updated October 2022]  Effective December 31, 2022, the 24/7 presence will phase out, but regular patrols will continue.
Beyond on-site presence, watch commanders and other station personnel monitor key areas of the neighborhood with the help of newly installed pole cameras.   
Outreach & Engagement:
Senior Lead Officers (SLOs) have also greatly increased their presence in the affected area, including:
Attending frequent street fairs, providing one-on-one assistance to affected families, and handing out claims information to displaced households.
Providing a resource guide for the local 28th Street Elementary School staff to pass along to parents. 
Hand-delivering backpacks (from their annual giveaway) to 27th Street area children not in attendance at the event.
CEJA SENTENCED
[UPDATE]: Man who stored volatile explosives at his South LA home is sentenced to five months in federal prison: News Story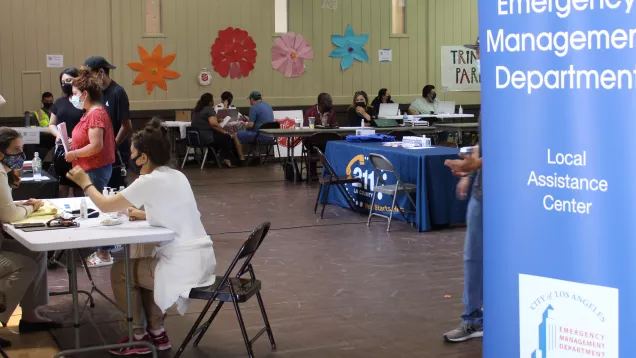 RECOVERY COORDINATION
Coordinating the many helping-hand efforts has been the City's Emergency Management Department (EMD). General Manager appointed a Local Disaster Recovery Manager to organize a Long Term Recovery Group (LTRG) of City agencies and partners charged with all aspects of the recovery – crime prevention, community beautification, claim processing, healthcare, and housing assistance and repair work. These efforts were organized by Recovery Support Functions (RSFs) and coordinated by a lead agency. 
Individual RSF groups meet on a weekly basis to coordinate their respective efforts.
A weekly LTRG meeting is held for each of the RSFs to share information with other RSFs; a summary report of activities is then provided to all involved departments.
EMD also chairs the LTRG Policy Group which consists of the heads of agencies involved in the LTRG. This group provides direction which is then shared with the LTRG and works to clear any potential obstacles. 
EMD updates a website that provides regular progress updates to the public.
DAMAGE CLAIMS 
The City has received more than 400 explosion-related claims. 
Nearly 100 have been settled, with most others in progress as additional information is supplied by claimants. 
Twenty-two claims are now in litigation (out of 158 claimants who have retained legal counsel).
Total payout for all claims is nearly $300,000, to date; additional real property claims are anticipated before the deadline in October 2022.
HISTORIC OVERVIEW
On June 30th at approximately 7:30 p.m. there was a major explosion in South Los Angeles due to the detonation of illegal fireworks and improvised explosive devices seized by the Los Angeles Police Department (LAPD).
The collective mission of the City of Los Angeles and our agency partners will continue to work to see the recovery process through to the end.  
"Long after the repairs are completed on 27th Street, I know the impact of what happened on June 30th will still be with the community members. The Los Angeles Police Department is committed to being present to support the community, and the other support entities, as they work toward restoring a sense of normalcy to the lives of so many. We will continue to evaluate the factors which led to the explosion and make changes to our protocols to protect the community.   
"The Los Angeles Police Department is committed to using the valuable information we have learned from the ATF investigation and our own after-action report to implement better practices moving forward. We acknowledge the massive impact this has had on the 27th Street community and will continue to look for ways we can provide support to the numerous people affected by this incident. We continue to learn from this incident and are working toward becoming a better police department." 
-Chief of Police, Michel R. Moore
MANY HANDS . . .
In addition to those mentioned above, this is a partial listing of other City of Los Angeles agencies and cooperating nonprofits and service providers that have worked and/or continue to do so to make the 27th Street and San Pablo area, its residents, and businesses whole again:  LA Mayor's Office, LA Fire Department, LA Department of Building & Safety, LA Department of Water & Power, Bureau of Street Services, LA City Attorney's Office, Kedren Community Health, LA Housing Authority, Community Investment for Families, LA County Development Authority, Homeless Outreach Program Integrated Care System (HOPICS), Wellnest Emotional Health & Wellness, People Assisting the Homeless (PATH), Watts Labor Community Action Committee, CRCD Enterprises, and more.
27th Street Incident Archive offers a detailed history of recovery efforts immediately following the explosion.