Posted on 06/07/2023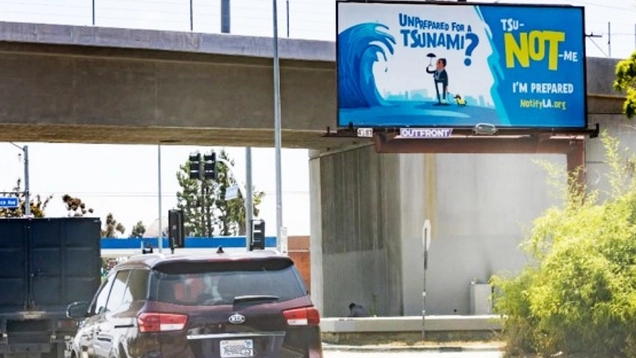 In mid-May 2023, LA City Emergency Management launched a planned five-week creative multimedia campaign aimed at informing residents, workers, and visitors to the City's coastal communities of the need to be prepared for and aware of the possibility of tsunamis -- massive
sea waves caused by earthquakes or undersea landslides or volcanoes.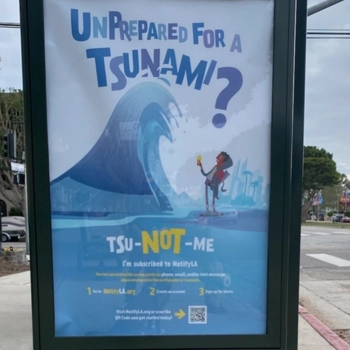 Targeted areas for the campaign, set to end June 22, ranged from west-facing beach areas like Venice and Playa del Rey down to the south-facing LA Harbor area and San Pedro. 
Messaging was created that would focus on educating stakeholders in how and where tsunamis form, why they are so devastating when they do occur, and how to recognize possible signs they are forming -- from the shore. 
Residents and workers were also given basic tips on household and workplace preparedness and were encouraged to register to receive LA City emergency notifications from NotifyLA -- available via email, phone, and/or text. Users may also subscribe to alerts in multiple areas including their neighborhood, schools, or workplace.
Register now at: NotifyLA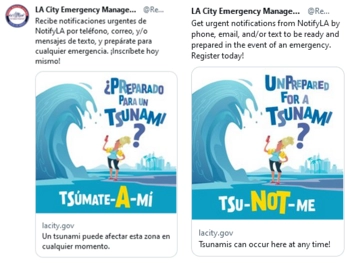 Tsunami awareness messages were spread across several social media platforms, sent via text messages, streaming audio, and online banner ads, as well being placed on many dozens of transit-shelter poster ads and large-scale billboards throughout the City's coastal areas.
Funding for the five-week, area-specific campaign was supplied through a "community preparedness and resilience" grant-award from the Urban Areas Security Initiative (UASI) program. Overseen by the U.S. Department of Homeland Security, UASI exists to enhance regional preparedness and capabilities in 36 high-threat, high-density areas.