When Cooling Centers Activate
During extended periods of excessive heat, LA City opens dedicated cooling centers and posts locations and hours of operations here as well as on @ReadyLA social media platforms and other City websites. (Locations subject to change).
Many of these will be at City Recreation and Parks facilities, all of which offer shelter and cooling during regular business hours, throughout the summer.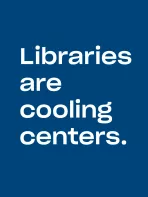 When it's hot outside, the more than 70 LA City Public Library branches around the City are all also available for cooling and shelter during their regular business hours.
For dedicated centers in nearby portions of LA County - and City cooling centers once activated - see the interactive map (or download a full list) at:
Find a list of hydration stations, plus more tips on how to deal with Extreme Heat
Pets at Cooling Centers
When activated, LA City's

Recreation and Parks' facilities

are pet-friendly cooling centers. Dogs must be on a leash and all pets must be accompanied by their owner at all times. Kennels will be provided upon request. For more information, email Rap.PublicInfo@lacity.org -- or call 3-1-1.        
For most-current info on LA City cooling facilities: 
Call 3-1-1 within the City

Call the Recreation & Parks Dept. general info line - (213) 202-2700

Call the LA Public Library Information Office - (213) 228-7555
The City Department on Disability works to provide reasonable accommodation to ensure accessibility and effective communications for people with disabilities and others with access and functional needs at cooling centers.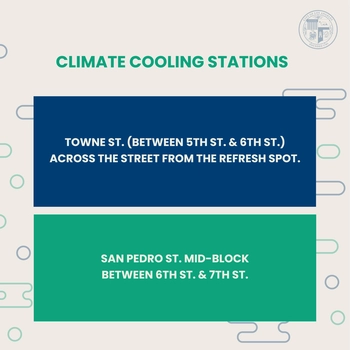 Skid Row Cooling Options
Also, on 5th Street at San Pedro and at the Skid Row Refresh Spot at 544 Towne Avenue, LA 90013; (213) 744-0724 - open 24/7.
When City emergencies occur that pose significant threats to large numbers of people, their property, or the environment, this map will populate with alerts and relevant event locations. Check local news and LAFD or LAPD websites and social media for information about smaller, localized events. To receive all-weather alerts in your area register for . . .