Posted on 09/01/2023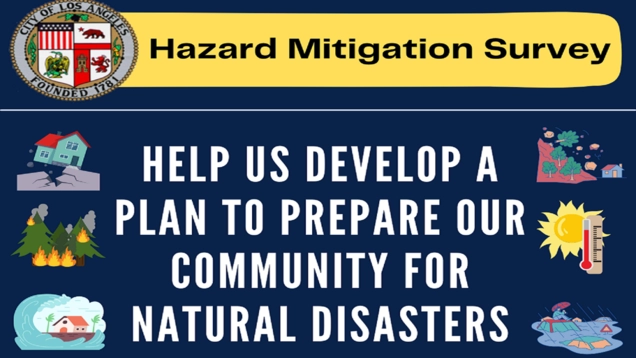 An Important Invitation to LA City Stakeholders
The City of Los Angeles is engaging the community for input as we create a Local Hazard Mitigation Plan (LHMP) to help us prepare to keep Angelenos safe in future emergencies and disasters.
WHAT IS THE LHMP
It is the official hazard analysis for the City and a requirement for LA to receive federal funding for these types of mitigation projects.
HAZARD MITIGATION EXAMPLES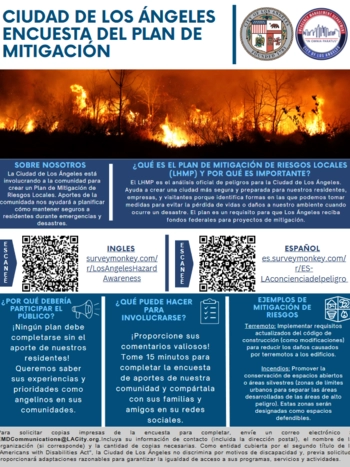 For Earthquake: Implement updated building code requirements (such as retrofits) to reduce earthquake damage to buildings. 
For Wildfire: Promote conservation of open space or wildland / urban boundary zones to separate developed areas from high hazard areas (such as defensible space).
WHY IS IT IMPORTANT?
It will help create a safer and prepared city for our residents, businesses, and visitors by identifying ways we can take action now to prevent loss of life or damage when a disaster occurs.
No plan would be complete without input from our stakeholders! We want information about your experiences as Angelenos, and about what your priorities are for your community.
Please provide valuable feedback by taking ~15 minutes to complete the community input survey and share the survey with everyone in your network.
 
To request paper copies of the survey for completion, email EMDCommunications@LACity.org - please include your postal address, organization name (if any), and number of copies needed.